Let me introduce you to three of my most, well, crafty friends.
At the moment they're taking some time off to chill on our armchair, but their normal job is keeping me company in my room at uni. There, they set up camp amongst the cushions on my generously sized window seat, and gaze lovingly up at me as I try to figure out what on earth is unpersuasive about the 'artless' style of Lysias 1. And I must say, they carry out their job rather well.
Epimetheus was the first thing I ever made on a sewing machine, about four years ago. He's a Minicraft Panda kit, and was used as a sort of training exercise, as a family friend slowly and patiently taught me how to use my new machine. He's supposed to look like this: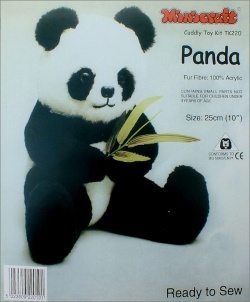 But my Epimetheus is a bit lumpier, plus he's got a bit of a hunchback. But he's still pretty cute, and not bad for a first shot at machine sewing, even if I do say so myself. When coming up with a name, I thought Pandora the Panda had a nice ring to it (my brother was writing a musical called Pandora at the time, a musical in which I would eventually perform). My new panda was obviously a male panda, however, so I instead christened him Epimetheus, who was the husband of Pandora in Greek mythology. My brother reckons I am the only person in the world with a handmade toy panda called Epimetheus. He could be right.
Eponine is about a year old. I crocheted her from the book Edward's Menagerie, which is an amazing book with patterns for over 40 beautiful animals, domestic and wild. I used a chunky wool and a slightly bigger hook than was recommended, because I wanted her to be bigger – the original book versions are designed for a toddler. I'm really happy with how she turned out! She's named after my favourite character from Les Misérables (although, speaking from loyalty, Madame Thénardier has to be my favourite character, because she's the role I played). I bought her bow for £1 in the Dorothy Perkins sale, but it looks way better on her than it ever did on me.
Winston is the only one of the trio which I didn't make! He was bought for me as a birthday present last year, and he's proudly sporting the scarf of Churchill College Cambridge. Our college colours are pink and brown, which doesn't look as bad as it sounds! I also have a matching version for when Winston and I are feeling particularly coordinated (or just for when it's cold). He's named, of course, after the great Winston Churchill himself. In the photo, he looks rather like he's snuggling up to Eponine – I fear Epimetheus is becoming somewhat of a third wheel!
Well, there you have it. The three were begging me to do their photo shoot – hoping to be internet sensations I think. We'll humour them.